Working USB Parts: Roy Rogers and a Rocket Launcher
Mar 21, 2014 6:03:58 PM
The USB Promos office has been very busy the past couple of months thanks to our custom shape USB promotions. Throughout February and March we have offered our clients: 10% off of custom USB orders, free mold charge, free designs and free ground shipping. Madness, isn't it?
Our custom shape USB drives can be either 2D or 3D, simple or complex. Our graphic designers work very hard to create the most interesting design for you. One of our favorite customs produced in February was for a department of Roy Rogers (American food chain).
This custom, while a simple 2D design, would be considered complex in the USB world. One of our graphic designers created the concept of a movable part for this client. Instead of creating a simple model that pulled apart to reveal the USB, our designer made the sun appear to swirl upon rotating the USB outwards. See for yourself in our GIF: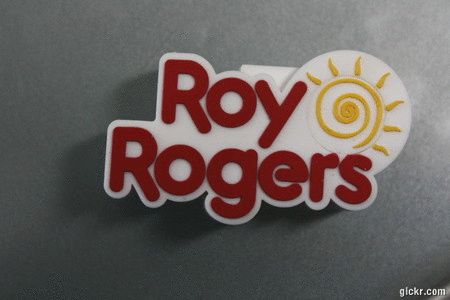 Pretty neat, isn't it? The following collage includes picture by picture of the sun moving and USB rotating outwards.
Custom shape drives provide the perfect opportunity to market your brand or business. Especially when we can incorporate moving parts for our clients; the working parts help communicate what your business, product or service does.
Another model we created and produced was a rocket launcher. Not only did our graphic designer do a tremendous job in designing an exact USB replica of the client's rocket launcher, he also designed the top part of the model to lift up and reveal the USB drive.
If you would like to see a free mockup up of your next promotional USB, feel free to contact our sales team by emailing sales@usbpromos.com. Whether you are interested in a traditional model, simple 2D or complex 3D shape drive- we are excited to work with you!
-The USB Promos Team